I made a goal last year actually that I was going to read 52 books... One book a week I thought was manageable... Well I think I actually read 30 some odd books.. so close.... so very close.  Sometimes life gets in the way of reading a book a week you know.
So this year I am still going to try and achieve that.
This is what I read in January
(published by: Quirk Books)
I had this on my bookshelf since it released in hard back a few years back. I nearly fell off my chair (well not really... more like sat up in bed and went "huh... wow"... ) when I read that there was a third book out.  I realized that I had to act quickly and read the second book in the series so I could get the third book and get caught up.  When I read the first book I was so enamoured with the story line, the mystery and the photographs I was fully enraptured and read the book in one sitting.
Ransom Riggs does a fantastic job following suit with this version as well. The children's journey is slightly less magical but still very much imaginative and thrilling.  Knowing the photographs are real as well makes the story take hold and is not a distraction for the most part. There are scenes in the story that I felt were just thrown in to encapsulate and dialogue on the photo inserted... but it is not a huge distraction. The places that Ransom Riggs imagines is magical and fearless as are the characters he writes about.  
I love the concept and while it took me a few days to read this book I loved spending time with these characters.
One of my favorite parts of the book is when the main protagonist reaches into his pocket just to feel his cell phone, it doesn't work but there is a strange comfort he feels when he touches it.  That modern twist on this story was a brilliant and probably over looked (and pardon this language) touchpoint that so many of us feel sometimes that I am glad it wasn't over looked with this character.
I look forward very much to the third adventure that these characters go on.  
This book was on my book shelf at the library for over two years.  I thought it would be a great book to read after I got married, lived with my husband for a couple of years and then began reading relationship books with humor to try and find the insight of funny people's relationships.  I think my husband and I are hilarious... so why not read about other funny people's lives.
So... not what I had wished for unfortunately.  I really should have read more into what the book was about before jumping in thinking it would be a fun and silly he said / she said of a marriage well lived and loved. 
Their marriage isn't doing so well, their son is sick and they do stick together and some of the insights are funny-ish... but really I was so sad at the end of the book I really wanted to go outside in the middle of a snow storm to clear my head.  
But then instead I leaned over to my husband and said "thanks for not yelling at me.... when you probably want to sometimes".  I think he was asleep and mumbled "uh huh" or "glernharmerflard".  (and I don't think either complain about yelling... in the book.... I just didn't want to say... thank you for not wanting to punch me.... again... not anything remotely mentioned in the book...)
Marriage is funny and hillarious and sad and awful... and that is what this book is all about.  Warts and all... from both sides of the sexes.  
I am glad I read it of course, but wish I had known a little bit more about the sadder and serious topics.  I would have been a little more open minded and prepared. That is totally on me.
Third book of January was:
(published by North Light Books)

I am currently working to find inspiration for waterpainting and genearal crafting.  In July I went to a co-workers house for a stamping party.  Now here is the deal... I am not a crafty person.  I repeat.... I do not find myself crafty.  I love the idea but cant really commit to any one project.  so I went to the party thinking "Sure, this will be fun.  I will make a card and then go home and be done".  Well let me tell you something... not true.  I have now dedicated part of our guest bedroom as a crafting station, I have made tons of cards and have a million and a half ideas (ok over 1000) pinned on Pinterest of things that I would like to emulate or flat out copy.  
SO... anyways... I found this book and thought it would be a nice little gateway to either developing a journal for what I would like to make, or what I would like to copy.  Kind of a holding spot for ideas.  What Ms. Rae did in her book though was share a altered book project which was a delight for me.  I don't think I will ever actually be able to make what she shows in the book, but honestly... her methods are simple, very straight forward and probably very doable.
I was inspired though by her book to go and buy some binding rings and start from plain paper some daily tracking and journaling of sorts for my card and stamping projects.  It has helped me to look outside of the box at the tools that i have and use them in a slightly different way. Which is outstanding.  
I have gone to her website as well and find her to be kind and inspirational.  And even decided to follow her on instagram.  Her hand lettering is fun and not too stuffy which I think is valuable to see.... Its more about the message than the form, which is the gist of what I got out of the book... make it about the message in the form that you find fun and artistic.  
It was a great book for inspiration and one day I will bring myself to alter a book the way she shows. I just am not there yet!
(published by: Little Brown and Company)
I think because I love hearing David Sedaris on NPR, I was hoping more for this book.  I got about 5 chapters/stories into this collection and gave up.  I didn't find much humor in the story telling.  
I know that there are other books that are much funnier and will give him another try. 
But this one wasn't a winner for me.
(publisher: Farrar, Strauss and Giroux)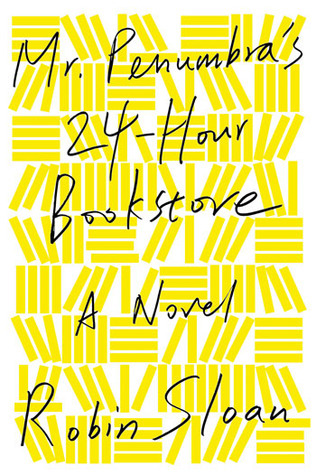 Straight up ... loved love loved this book.
Mystery, technology, a riff on the illuminati.... all in one book.  I had no idea really what this book was about but remembered reading something about it when it was first published.  I remembered thinking it sounded good.  I am so thrilled that I was not disappointed.
I loved the mix of the technology and the insight into the Google mentality that we all live under. I know some "googlers" and Mr. Sloans portrayal of these characters was spot on.  
Without giving too much away... I enjoyed the cross between an old bookstore, it's customers, the reasoning behind their coming into the store and the desire of the counter staff to follow them.  
It was a great read.... the best of the month so far.
So I decided to read this book because I am waitlisted for another book and this came up as a suggested read. It was very very funny and made me, much like my friend Jen who just read it too said, "that it made me an instant fan".  I have to agree... I just added all of M(r)s. Notaro's books on my wish list.  Boom done.
Her description of her pre-wedding details and planning was so spot on I actually wrote in my review "why did I not know about this book when I was getting married".  She wrote about her videographer being the worst... well my photographer was the worst.... she wrote about fitting into a dress... me too!  
She writes like a girlfriend sitting across the table from you at the coffee shop... but that coffee shop is one of the new Starbucks that serves wine and you have already had two glasses.  So funny.  
I really enjoyed her stories and tales and look forward to reading many more!
I am currently reading: 
(publisher: St. Martin's Press)
I decided that this would be a great book to get started this week... it's going to snow, no major sports are on tv... not that I am a sporty spice.  I am getting into it.  The idea of a main character that arrives in a book from the time of conception is brilliant and I look forward to seeing how this turns out for the characters.  So far it's a little sad ... but that I think at this point in the book is what we are supposed to fell.  I anticipate either a heart wrenching tale or one of great vindication.  
My little note and disclaimer so anyone poking around understands what this is all about:  note all links go to Goodreads in an effort to share what other people think about the books I have listed. There is no affiliate purchase links either... just pure sharing of opinion.  I am finding that if I post about what I think about what I have read, I gain traction into reading more, making more value out of my day and enjoy the idea of blogging a little more.  I am hoping that you find something interesting when you come through and I hope that I will post more about books and reading as I get further to my goal this year.  I also feel if I share what I am reading it pushes me to be accountable for my goal.  
So cheers to a great month of reading in January!  Cheers to being accountable!  Cheers to sharing this little journey along with me...
If you have any suggestions for what I should read as well... please don't hesitate to let me know!